…Ranjit Bhatnagar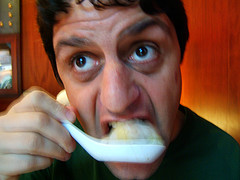 Ranjit Bhatnagar discovered sound art around age 14, listening to weird late night programs on KPFA. He now works with interactive and sound installations, with scanner photography, and with internet-based collaborative art. Recent works have been exhibited at the Lawrence Hall of Science in Berkeley, the Parc d'aventures scientifiques in Belgium, Flux Factory in Queens, in the Artbots series at Eyebeam Atelier and the Pratt Institute in New York, and the Mermaid Show at the Williamsburg Art and Historical Center in Brooklyn. He recently taught "Mister Resistor" at Parsons School of Design, a studio course and rock band with homemade instruments.
Originally from the San Francisco Bay Area, Ranjit received a BA from U.C. Berkeley and an MS from the University of Pennsylvania, and was certified carnie trash by the Coney Island Sideshow School in 2002. He lives in Brooklyn next to a nice big park.
…press
You can read press clippings about Ranjit's projects here.
…moonmilk.com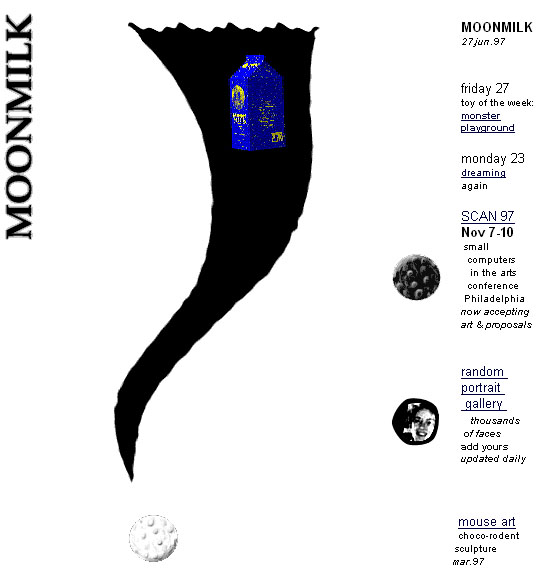 moonmilk.com has been around in one form or another since 1993, making it one of the oldest personal sites on the web. It contains heaps and dustbins of photography, art projects, rants, and experiments, much of which is currently inaccessible. The tradition of occasional photography continues on the front page, and I'm also an enthusiastic participant in the flickr photo-sharing site.
Ending over a decade of hand-edited HTML, this part of the site is, finally, maintained by WordPress software. The page design is derived from the Blix template by Sebastian Schmieg with tiny icons by Kevin Potts. The above portrait of the author with a soup dumpling was taken by Lia Bulaong.
Here are some earlier incarnations of moonmilk.com (currently offline as of Jan 2012, but I hope to have them back eventually): 2004-2006, spring-winter 2003, winter-spring 2003, autumn-winter 2003 (the pixel house!), summer 2002, spring 2002, winter 2002, 2001 (park slope animation!)
…email
If you want to get in touch, write to ranjit (at) moonmilk.com.