…Ranjit Bhatnagar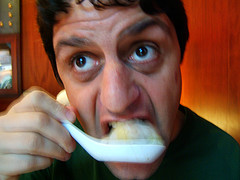 Ranjit Bhatnagar works in music, installation, and text, with a particular interest in algorithmic techniques and in improvisation at all stages of creation. His works have been exhibited across the United States and in Europe. Last summer, Ranjit worked with Ad Hoc Art Collective to build a large scale musical installation in Denmark, and has worked with New Orleans Airlift to build several tiny musical houses. He has performed recently with Lea Bertucci, Thessia Machado, and Margaret Leng Tan, and recently published a book of algorithmic poetry, "Encomials: Sonnets from Pentametron". His heaviest work is Stone Song, a 7500 pound outdoor sound sculpture; his longest is The Tapestry of the Search for Terrestrial Intelligence at 44 yards.
Originally from the San Francisco Bay Area, Ranjit received a BA from U.C. Berkeley and an MS from the University of Pennsylvania. He lives in Brooklyn with a small dog next to a big park.
…press
You can read press clippings about Ranjit's projects here.
…moonmilk.com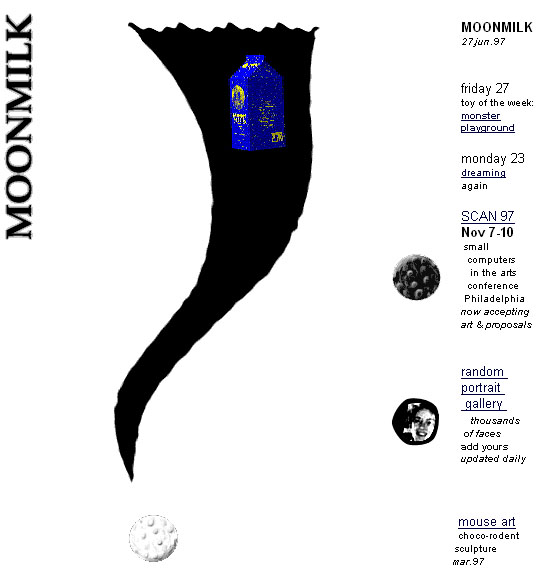 moonmilk.com has been around in one form or another since 1993, making it one of the oldest personal sites on the web. It contains heaps and dustbins of photography, art projects, rants, and experiments, much of which is currently inaccessible. The tradition of occasional photography continues on the front page, and I'm also an enthusiastic participant in the flickr photo-sharing site.
Ending over a decade of hand-edited HTML, this part of the site is, finally, maintained by WordPress software. The page design is derived from the Blix template by Sebastian Schmieg with tiny icons by Kevin Potts. The above portrait of the author with a soup dumpling was taken by Lia Bulaong.
Here are some earlier incarnations of moonmilk.com (currently offline as of Jan 2012, but I hope to have them back eventually): 2004-2006, spring-winter 2003, winter-spring 2003, autumn-winter 2003 (the pixel house!), summer 2002, spring 2002, winter 2002, 2001 (park slope animation!)
…email
If you want to get in touch, write to ranjit (at) moonmilk.com.