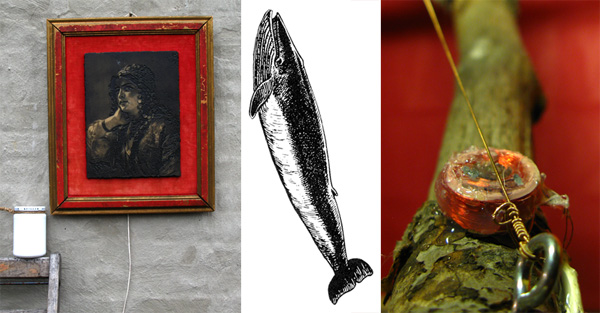 I've got three noisy things happening or starting soon:
Friday afternoon (April 4): instrument workshop/jam session at The Tank, NYC
Opening Friday (April 4): Everything Must Go — the last ever show at Flux Factory's current space in Queens, soon to be flattened by the MTA.
Opening Saturday (April 5): Artistic Mediums: Revelations of the Invisible — at the Museum of New Art, Pontiac, MI
FIRST OFF, this Friday from 2-5pm at The Tank in Tribeca:
I'm doing an instrument-building workshop and jam session with the electronic noise band The Loud Objects. They'll teach you to program cheap industrial microcontrollers into noisemakers of wonder; I'll be showing how to wind your own electric guitar pickups and make simple but surprisingly great sounding electric stringed instruments. You'll leave with one or more new instrument made by your own hands! (There's an optional donation for supply costs.)
The Tank @ Collective: Unconscious is located at 279 Church Street between Franklin and White. To get to The Tank by subway take A, C, E, J, M, Z, N, Q, R, W, Z, or 6 to Canal Street, or 1 to Franklin Street.
LATER THAT SAME NIGHT: opening party 7pm at Flux Factory:
"Soon, very soon, the Flux Factory space at 38-38 43rd Street will be demolished. In anticipation of this event, we are turning the entirety of Flux Factory into a giant installation of itself. For the past six years, Flux Factory has developed its gallery and aesthetics laboratory at our space in Long Island City. We have had scores of shows and many hundreds of artists have graced these halls. Now it must all be destroyed. Our entire block will be razed by the pitiless bulldozers of the MTA. Everything Must Go."
I'll be making a sound sculpture for the show based on the recorded voices of flux factory artists, residents, and friends. I can't give any details yet because I'm going to improvise the whole thing tomorrow night. Will it work!? Only one way for you to find
out! If that's not enough, there will also be live music and booze.
It's gonna be a big crazy show, check it out. If you can't make it to the opening, the show will be open weekends (and other times – check the web site) until the CLOSING PARTY on Saturday, April 26.
Flux Factory is in Long Island city near the N, R, V, G, and 7 trains. …directions
AND THEN ON SATURDAY IN THE MIDWEST…
Opening party 6-9 pm at the Museum of New Art, Pontiac, MI. The show is called Artistic Mediums: Revelations of the Invisible:
"Thomas Edison, the son of Spiritualists, proposed a telephone to call the dead. Contemporary post humanists seek to convert their souls into bits, or at least to prove that the meat is simply a container. Paranormal researchers, in particular those interested in EVP (Electronic Voice Phenomena), argue that the electromagnetic spectrum is oft manipulated by the dead to communicate with the living – that intelligences live invisibly in the ether is a foregone conclusion."
My piece for the show is a sound sculpture made of various junk and collaged audio, called "Sonnets from the Portugese." Unfortunately I won't make it to the opening, but if you happen to be near Pontiac, here's directions to the gallery. The show will be up
until April 26th.
I'll put documentation of all three of these noisy things up on this site after the weekend.